Hello, everyone! A few years ago, I wrote a post called "Who The Hell Is Taylor Swift?" in which I tried to understand the singer by analyzing her extensive discography. At the time, Swift hadn't yet released her commercial smash albums Reputation or Lover, and Folklore and Evermore were not yet a twinkle in her eyes. Like many people, I was only a casual listener of Swift at the time I wrote that post, so my analysis of her song lyrics now seem surface-level at best. I saw her as America saw her: a commercialistic pop-machine wrapped up in the ideal image of feminine Americana. Like many people, I didn't take her seriously. How could I, when she wrote such juvenile hits like "22" and "We Are Never Ever Getting Back Together?"
But then something changed: I actually listened to Taylor Swift. Not to her saccharine radio singles (always the most milquetoast songs of her albums), which represented the carefully-curated public image of Swift, but her full-length albums. I listened to them all, on repeat, for months, and as I listened to her oeuvre, I realized how badly I had misjudged Swift's musical talent, her lyrical genius, and her introspective nature.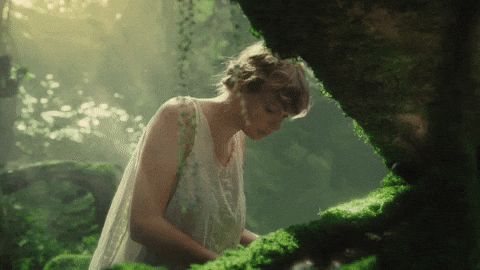 Swift's discography has always often been described as "juvenile." She frequently writes about high school romances and childhood nostalgia, and refers to her adult experiences through metaphors about cheerleaders, football players, and teenage flings. While peppering her lyrics with allusions to adolescence does make her music seem youthful, it doesn't mean that her music is something to be disdained as immature. If anything, Swift uses high school as her literary motif. She relates larger ideas of lost love, rejection, infidelity, and wasted potential to high school because it's an idea that most everyone can relate to. John Hughes used high school as his setting in The Breakfast Club to explore universal themes of loneliness, acceptance, and individuality. Swift uses the theme of adolescence in the same way, and yet while movies like The Breakfast Club are revered as classics, Swift is still written off as being too "YA" to be critically respected.
In the 3 years since I wrote my original post, Swift has released 4 new albums. Reputation was an about face for Swift, as it was the first of her albums to explicitly deal with adult themes in a "mature" way. Then came Lover, which at the time I found to be Swift's most self-reflective album, where she meditates on her own insecurities and how they affect her interpersonal relationships. Still, even with the critical and commercial claim of these two albums, Swift has struggled to be taken seriously by the media and by the public as a whole. Seen as an ambassador of the teenybopper crowd, and derided for writing only about high school romances (how dare teenage girls have feelings, too!) it wasn't until Swift released folklore that the critics and the public started to take notice. By teaming up with artists like the National's Aaron Dessner and Bon Iver, both indie darlings with serious cred, Swift had finally shown, as a Pitchfork review noted with some surprise, "some real signs of maturity."
But here's the thing: for those who have been listening to Swift since she was a teen, devoured every song on her albums, and took a few minutes to actually absorb the meanings behind her metaphors, Swift has already been mature. She's been mature since Red, where she catalogued her tumultuous romances with tenderness and nuance that belied her years. She's been mature since 1989, when she ingeniously harnessed the crystal-clear sounds of pop-synth to veil lush tales of love, heartbreak, and healing. Swift is a born storyteller, someone whose ability to tell sagas in three-minute songs would be acclaimed if the subject of those stories didn't happen to be fifteen-year-old girls. Swift shouldn't have had to partner with "serious" indie men to be taken seriously. The reluctance to see her substance for what it is lies in our society's difficulty in valuing the thoughts of women, and especially the thoughts of young girls, which are commonly written off as naive or silly.
folklore and evermore more than any other album showcase Swift's remarkable talent for crafting stories. Gems like "no body, no crime, "ivy," and "cowboy like me," are sweeping country ballads that would be lauded as classics if they were written by a different hand. In "tolerate it," Swift takes the perspective of a young woman devoted to a disinterested older man, and in "champagne problems," she imagines the fallout of rejecting a lover's marriage proposal. While a younger Swift spent most of her other albums writing about the failures in her own relationships, the tried and true "writing what you know," these albums show that Swift is eager to stretch her creative wings and jump into the stories of others. Few songwriters are able to show as much empathy and imagination as Swift, and her ability to be able to tell these stories while still appealing to a mainstream audience demonstrates her knack of combining art and commerce.
Although critics are now warming to Swift's newfound maturity, it will still be a while before the public views her as anything more than a frivolous pop-star. Our society has always viewed the words of women, especially young women, as less significant than those of men. Coming-of-age stories written by men are honored for their profound ideas, while similar books written by women are ignored or categorized as mere "chick-lit." Until these discrepancies are addressed, our society will never take women's artistic creations as seriously as they do men's. Taylor Swift is only the tip of the iceberg.