Hello, everyone! In terms of reading, 2020 has been an exceptional year for me. My friends and I started a virtual monthly bookclub which has given me the opportunity to read several books that I would never have chosen on my own. This month's choice, Jacqueline Woodson's new novel Red At The Bone is the type of work that would never cross my mind to read, and yet I'm so glad I found it. It's a complex novel with an intricate story and an unconventional writing style that would have frightened me away during a casual book browsing at my local library, but the idea of never judging a book by its cover (or first page) rings absolutely true for this work. Some books deserve a second glance, and this is one of them.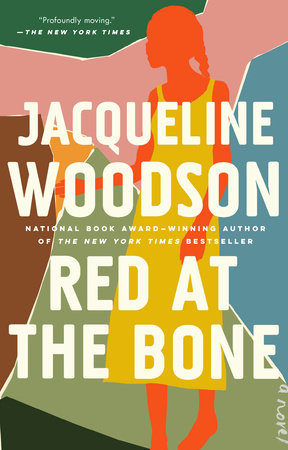 ---
Quick Synopsis: On the day of Melody's formal debut into society, her friends and family, including her mother Iris, father Aubrey, grandmother Sabe, and grandfather Po'Boy, reunite to celebrate her growth into a young woman. Once there, they reminisce on their lives and think about what paths they took to lead them to this moment.
My take: Books are like people. Some tell you exactly who they are in the first few sentences, and others are more shy. They require effort, time, and emotional investment to reveal themselves, and then they unfold into a story that blossoms one page at a time. Red At The Bone is the second type of story.
The first few pages were a challenge to get through. Woodson's prose is more like poetry. Instead of dialogue tags and quotation marks, she uses italics to signal conversation. Her pages are full of sprawling trains of thoughts, of digressions that transcend space and time, and sentences that jump from one year to the next with barely an acknowledgement. Her style would be jarring if it weren't so melodic. You feel as if you're not reading a novel, but combing through someone's mind, examining piles of memories that aren't constrained to the strict rules of time.
Writing an 196 page novel about one day is challenging, but writing the same book about the multifaceted lives of an intergenerational family is even more difficult. In the span of single chapters, we learn about births and deaths, relationships forming and dissolving, young children and their adult selves. Woodson covers a staggering amount of events in her novel, and yet it's as light as a feather.
She also writes about topics that are neglected in mainstream white fiction. She discusses the emotional challenges facing young mothers, and the hardships of being a young father. She talks about race and about class, but shows both sides of the spectrum, from an impoverished Black family, to a successful middle class one. She talks with passion and love about the beauty of Black culture, Black families, and the Black experience, but she also shows the difficulties that can stem from trying to conform to cultural tradition. I enjoyed being able to immerse myself in the life experiences of others and to feel their joy and pain so poignantly.
I've never read any other pieces of Woodson's work, but now I'm eager to keep experiencing her way of seeing the world. In Red At The Bone, she demonstrates the importance of valuing the challenges that we might face in our lives, and valuing of living in the first place. Death is a constant, and so is tragedy, but Woodson sees how quickly time moves, and how the band plays on. She sees the beauty in the progression of a generation, and the worth of every second. In this novel, she turns every one of those moments into a poem.